DSS – VCU Gerontology CCE Training
A new comprehensive statewide 
Infection Prevention and Control (IPC) 
training program
VDSS & VCU Gerontology CCE are presenting a new comprehensive statewide Infection Prevention and Control (IPC) training program which has inaugurated on June 8, 2022!
Over the next four months, we will learn through an integrated multi-media platform through which you will have:
Monthly IPC webinars with infection preventionists and subject matter experts on topics specific to your role
Weekly email updates with useful tools, infographics, videos, audio updates, and quick tips to expand your IPC knowledge!
Opportunity to receive certificates of attendance and contact credits for ALL learning modules
Recognition for module completion!
and, yes, FREE!
The topics to be explored will include hand hygiene (June), personal protective equipment (July and August), source control, OSHA requirements and many more.
We invite you to become an LTC IPC Champion today by submitting your name and contact in the form below.
For any questions about this training program, please contact us at gerocce@vcu.edu.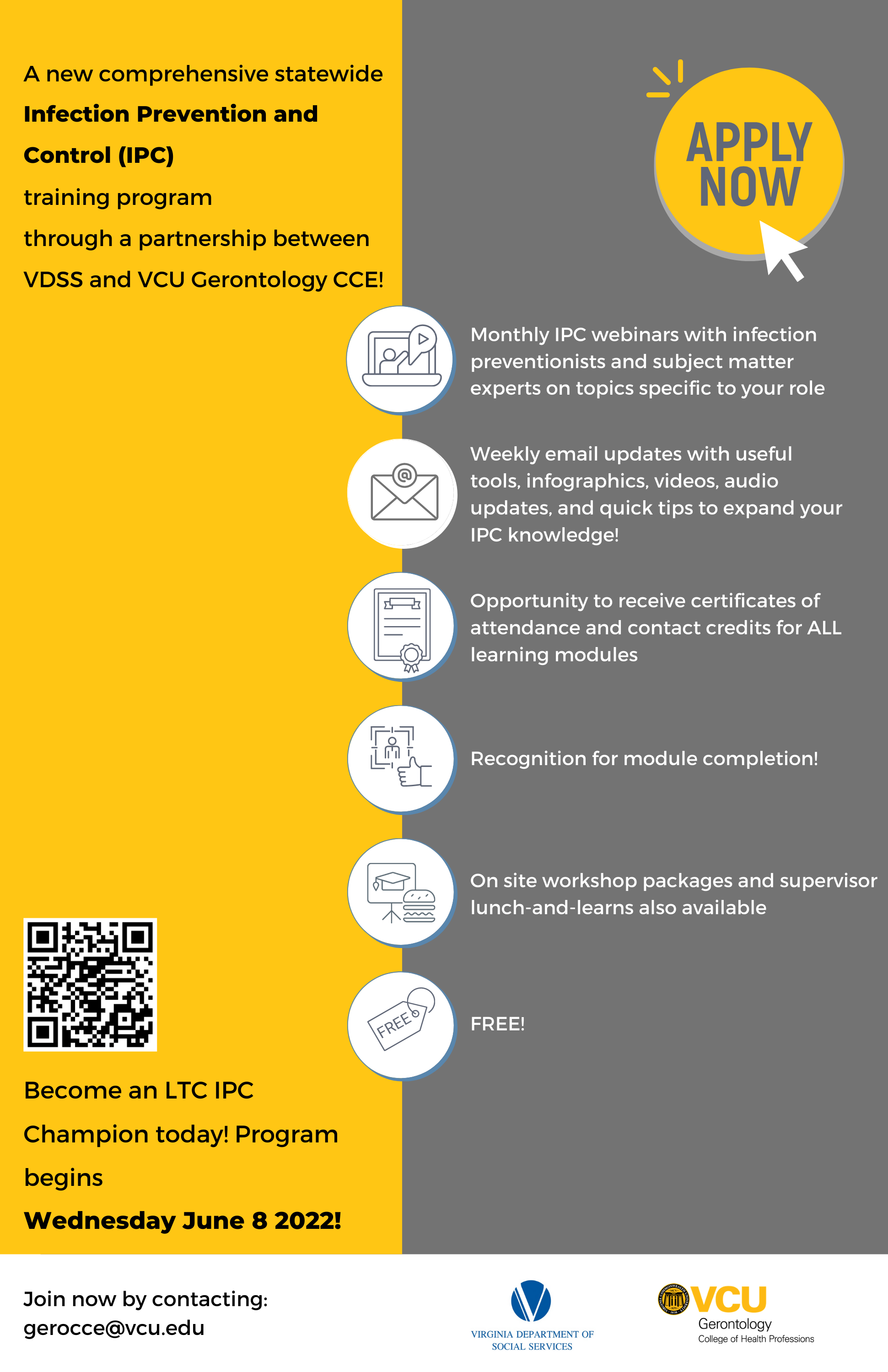 2022 IPC TRAINING – HOW-TO
First, register to access the training platform (use the yellow button below).
Select the first course (Hand Hygiene) to "enroll" in the course.
Once enrolled, you can begin learning and reviewing the materials.
At the bottom of each material/video, you will see a "NEXT" button which will take you to a brief quiz.
Once the quiz is successfully completed, you can select "Complete the Course" to obtain your certificate of attendance (which can be downloaded or printed from the platform).
That's it! You're on your path to a new learning journey!
Time to the live webinar on PPE part II (register below)…